First things first. It is to your advantage to click the above link when you are finished with this article. Why? Because it will take you to IGN.Com where you can find out even more information about "Ready To Rumble Revolution" as well as any other game you may be anticipating, as well as information, videos, and screenshots of the latest movies that are heading your way. Disclosure: Your gracious click also will put me in the running for a couple of prizes presented by one of my sponsors. So at the same time you can help me out, you can also enjoy a great gaming website.
The hilarious Ready 2 Rumble franchise flexes its muscles for its major, star-studded return to the ring. Bringing the franchise to Wii for the first time, the game retains all the knockout features of best-sellers Ready 2 Rumble Boxing Round 1 and Round 2, while delivering a knockout punch of style and attitude. Tailored to take advantage of the motion-controlled realism of Wii, Ready 2 Rumble Revolution makes landing a punch more fun than ever. Virtual heavyweights can fight from the backstreet gym all the way to the big Las Vegas showdown with vivid new visuals bringing the five spectacular ring environments to life. The arcade experience is made even better thanks to advanced Artificial Intelligence allowing more strategic fights.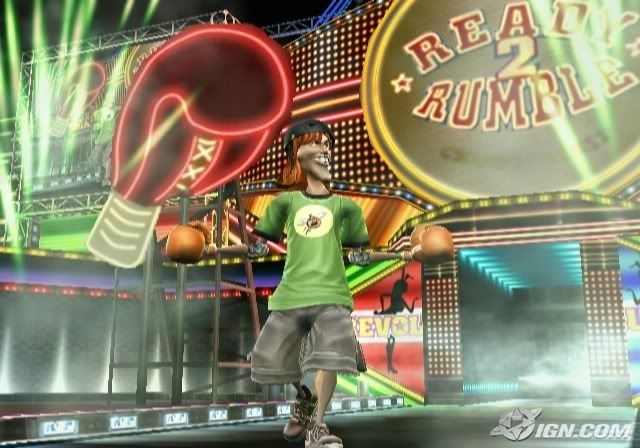 General Features
A roster of 18 wildly caricatured cartoony boxers, all parodies of celebrities from the worlds of sports, music and movies who enter the ring as larger-than-life "Rumble-ized" versions of themselves. Players will step right up and see if they can knock these super-sized egos down a peg or two!
Hosted by "The Voice of the Champions" Michael Buffer, famous for his "Let's Get Ready to Rumble" trademark call.
Characters are brought to life with hilarious moves, detailed facial animations, damage textures and fighting techniques including special moves, combos, extreme knockdowns and special "Rumble" combos.
An all new Championship Mode lets gamers create their own unique boxer and nurture his skills through mini-games, developing him as a fighter and creating a completely personalized Ready 2 Rumble Revolution experience.
Delivers a fun and intuitive experience in either single player or multiplayer mode.
The Wii controllers provide would-be pugilists with an intuitive and realistic feel. Using the Nunchuk controller as one glove and the Wii Remote controller as the other, players dodge, weave and throw the big punches to KO their opponents.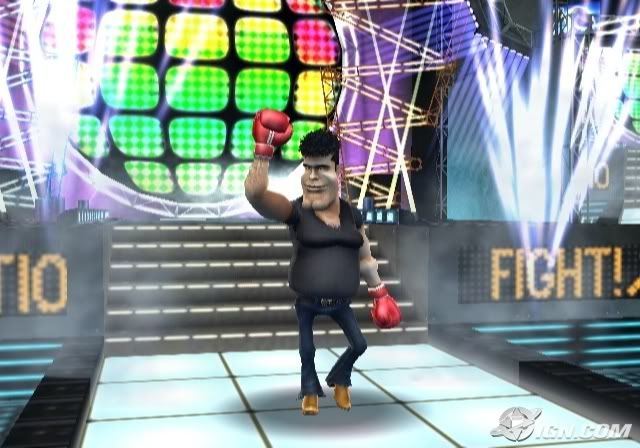 According to Craig Harris at IGN.Com, who got to preview the game:
Ready 2 Rumble Revolution runs at a very smooth 60 frames per second – which is good considering the original Dreamcast version did the same several years prior. The visuals are a considerable step up from the original game while offering the same exaggerated "caricature" style for the different boxers in this fighter. Michael Buffer makes an appearance as the game's announcer, but the character designers kept him conservatively "real" instead of making him over-the-top cartoony. Characters who take a pummeling will show the appropriate damage with bruising and swelling on the face as the fight progresses. Fighters can also change their look during the bout: watch the Elvis impersonator's toupee fly off in a flurry of punches, for example.
You can find "Ready To Rumble Revolution" for Wii in your favorite video game store on March 16th. You can also preorder it at Amazon.Com. Just follow this link: