Hey folks, the BEST! Dragonball Z game is coming to stores on June 10.
Dragon Ball Z: Burst Limit is revolutionizing the series by entering the realm of next-generation gaming. Complete with fierce online battles and radical 3D graphic effects, Dragon Ball Z: Burst Limit will blur the line between videogame and iconic anime series. Jam-packed with graphically enhanced playable characters, realistic battle stages and environments, players can take hold and experience Dragon Ball Z as never before.
During each battle, find conditions to create new dramatic scenes. After the battles, watch a unique story unfold each time you play. There is also a stronger element of offense and defense, due to added energy saving and fighting techniques.
As you can see by this ad I found, Gamestop is offering free T-shirts if you preorder through them as well as other bonuses depending on which system you order for.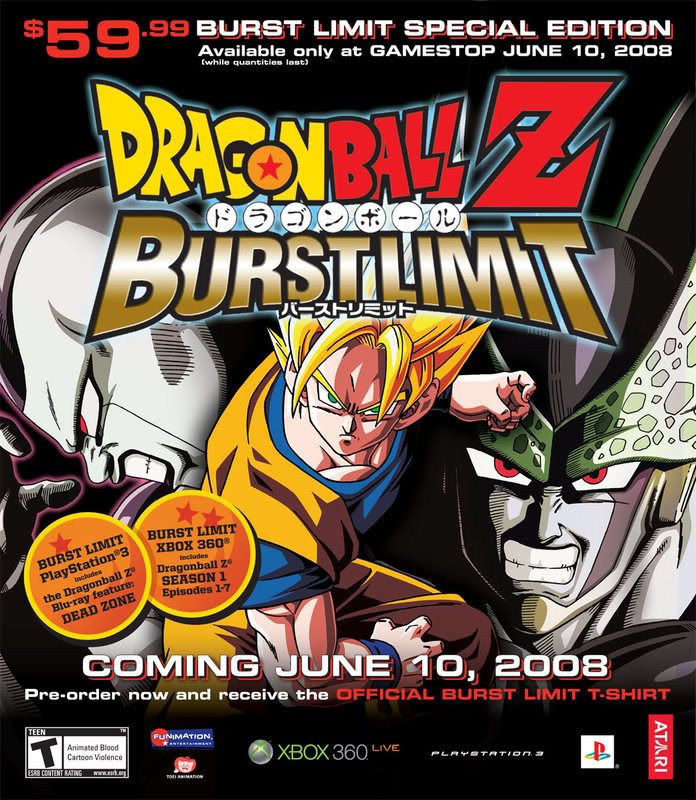 You can order the XBox 360 game by clicking
here
.
You can order the PS3 game by clicking
here
.
This is the first release of a Dragonball Z game on the XBox 360 and PS3 game systems.
Here are two trailers for the game as well as 3 funny short ads for the game.
So Folks, Get Ready To KAMEHAMEHA!!!