Make Sure You Know What's Going On Before You Make Your Plans To Visit Here!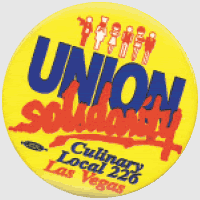 The
u
n
ion representing more than 60,000 workers in the Las Vegas casino industry set a strike authorization vote for Sept. 12 for workers who are still without contracts at that time. Some 35,000 members of the Culinary Workers Union Local 226 are under extended or expired contracts after the last collective bargaining agreement ended on June 1.
Only 15,000 workers at seven of Harrah's Entertainment's properties, such as Ballys and Paris, have new contracts.
Negotiations for 21,000 workers at casino giant MGM Mirage have been going on since March but no agreement has been reached. The last time the culinary organized a citywide strike in Las Vegas was in 1984, which lasted for 67 days.
The union represents hotel and casino workers on the Las Vegas Strip and downtown and workers at McCarran International Airport, as well as some laundry facilities in the city.
What does this mean? It means that if a strike occurs and you are not staying at one of the Harrah's Properties, such as Bally's, Paris, Caesar's Palace, Harrah's, or the Rio, you are in for a real hassle during your visit. Expect very few, if any, restaurants to be open in the other properties, expect your room to be not quite as clean as normal, don't expect extra linen or towels because they will have to be shipped in from out of state, and don't expect to be able to find a cocktail anywhere because cocktail waitresses and bartenders are part of the union. If this happens, it won't be pretty.