Member of the Boxxet Network of Blogs, Videos and Photos
It's a man's paradise, sort of. What could be better than a mix of comedy, horror, and...sexy! That is apparently what you will be getting with the new movie "Lesbian Vampire Killers", arriving in theaters on March 20, 2009. This trailer looks like a lot of fun. I haven't seen a really good vampire comedy since Roman Polanski's "The Fearless Vampire Killers", which had a lot of sexy with the late Sharon Tate.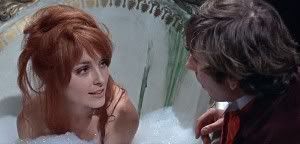 This trailer for Lesbian Vampire Killers shows more lesbian, more vampires, and more killing. Their women having been enslaved by the local pack of lesbian vampires thanks to an ancient curse, the remaining menfolk of a rural Welsh town send two hapless young lads out onto the moors as a sacrifice.
And by the way, if you have never seen "The Fearless Vampire Killers", I highly recommend it. You can order it at Amazon by clicking on the link below.
Amazon provides the following description about the movie:
One of Roman Polanski's more overt comedies, this 1966 monster spectacle stars Jack MacGowran and Polanski as a clunky but heroic pair of vampire killers. Called upon to rescue the beautiful and buxom daughter (Sharon Tate) of an innkeeper from a Draculalike bloodsucker, the duo muddle through all sorts of scrapes, the most intense being a scene in which a room full of dancing vampires realize the human interlopers are the only ones in the room who are reflected in a mirror. Scary and funny, the film has some unforgettable set pieces, a terrific score, one of the few records of Tate's extraordinary beauty, and vibrant performances. Not exactly Polanski in a relaxed mode, but clear evidence of his estimable skills as a director of both brilliance and polish.
Here is the trailer for "The Fearless Vampire Killers":