Bill O'Reilly Transforms Into Nancy Grace--Suicide Instigator.
A couple featured as wanted child predators on
The O'Reilly Factor
Wednesday were found dead in an apparent murder-suicide shortly after the segment aired, sources tell FOXNews.
Paul and Myrtis Gauthreaux were wanted by the
FBI
for engaging in sexual conduct with minors and appeared on a segment of the show that profiled alleged child pornographers.
After seeing the O'Reilly Factor segment, a relative of the couple called them before notifying the
FBI
of their whereabouts. When federal investigators arrived at their home, the Gauthreauxs had fled to an undisclosed location. The FBI said Paul Gauthreaux shot his wife dead before turning the gun on himself.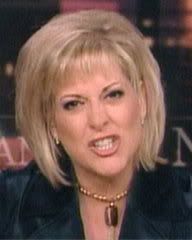 The child victim that the Gauthreauxs photographed in online photos was later identified and found safe.
Honest Abe, Honestly, Deformed.
Laser scans of two life masks, made from plaster casts of Lincoln's face, reveal the 16th president's unusual degree of facial asymmetry, according to a new study.
The left side of Lincoln's face was much smaller than the right, an aberration called cranial facial microsomia.
The defect joins a long list of ailments — including smallpox, heart illness and depression — that modern doctors have diagnosed in the U.S. Civil War-era president.
Lincoln's contemporaries noted his left eye at times drifted upward independently of his right eye, a condition now termed strabismus. Lincoln's smaller left eye socket may have displaced a muscle controlling vertical movement, said Dr. Ronald Fishman, who led the study published in the August issue of the Archives of Ophthalmology.
Severe strabismus leads to double vision and can be treated today by surgery.Lincoln's appearance was mocked by his political enemies, historians say. The author Nathaniel Hawthorne, a Lincoln fan, wrote of the president's "homely sagacity" and his "sallow, queer, sagacious visage." Hawthorne's description was deemed disrespectful and deleted by a magazine editor, said Daniel Weinberg, owner of the Abraham Lincoln Book Shop.