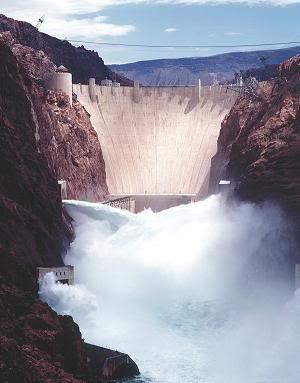 Although many people may think that Hoover Dam is one of the great wonders of the world (although not one of the seven), as you can read in this
TIME
magazine article from March 23, 1931, those who would soon begin construction on this dam would say this about their job: "Now this dam is just a dam but it's a damn big dam. Otherwise it's no different than others we've thrown up in a dozen places."
Funny how we can either downplay or exaggerate things that we consider great.
From Time Magazine:
Because construction of Hoover (Boulder) Dam across the Colorado River at Black Canyon is the largest single engineering feat ever attempted in the U. S., individual contracting companies were hesitant about undertaking the job for the Government. Therefore a group of potent Western contractors got together, organized Six Companies, Inc. Pooling their resources they submitted a bid to the Interior Department. Last week in Washington, Secretary of the Interior Wilbur awarded the Hoover Dam contract to Six Companies as low bidder. Their price: $48,890,995.50. The U. S. is to supply concrete—20.000 freight cars of it—steel, other materials and machinery which will run the final bill for the dam and power plants up to $165,000,000. Under $5,000,000 bond, Six Companies must finish the job in 1938 or pay a penalty of $3,000 for every day they exceed the 2,565-day limit.
Six Companies which won this biggest single peacetime Government contract is composed of: Utah Construction Co.; Henry J. Kaiser and W. A. Bechtel & Co.; McDonald & Kahn Ltd.; Morrison-Knud-sen & Co.; J. F. Shea Co. and Pacific Bridge Co. Principal organizer of Six Companies and its president is William H. Wattis, 72, head of Utah Construction Co. With his older brother, Edmund Orson Wattis (Six Companies' vice president) he began work as a grader when the Union Pacific first pushed into Utah. Together the Wattis brothers built the Western Pacific from Salt Lake City to Oroville, Calif, (a $20,000,000 job), the Southern Pacific into Mexico, the American Falls Dam in Idaho, the Gibson Dam in Montana, the Guernsey Dam in Wyoming, the Hetch-Ketchy Dam in California.
Last week small, spry, white-haired William Wattis was in San Francisco's St. Francis Hospital taking the Coffey-Humber cancer treatment when word reached him that his company had won the contract to build Hoover Dam. His jolly blue eyes snapped with delight. Wrapped in his bathrobe, and puffing a big, black cigar he talked eagerly:
"Now this dam is just a dam but it's a damn big dam. Otherwise it's no different than others we've thrown up in a dozen places. It involves a lot of money—more money than any one contractor has a right to have. ... I don't know when I'll get out of here. I think I am improving but don't worry, I'll be on this job."
Meanwhile Frank T. Crowe, hard-rock engineer who will superintend the actual construction of Hoover Dam, opened a Six Companies office at Las Vegas, Nev., the rail junction for the job. Then he proceeded across the mountain wastes to Black Canyon. Before Superintendent Crowe could start actual dambuilding, he had to do these things: 1) complete the 20-mile railroad from Las Vegas to Black Canyon rim over which all material must be lowered. 2) Construct Boulder City to house 2,500 workers and their families. 3) Build an eightmile, double-track, standard-gauge rail line from Boulder City down to the canyon, to the dam site. 4) Blast out of solid rock in the canyon walls four tunnels 50 ft. in diameter to divert temporarily the Colorado's flow 4.000 ft. around the dam site. 5) Erect a temporary dam upstream to turn the river into the tunnels and another downstream to stop backwash. Only then will the bed of the Colorado be laid bare and dry to receive the foundation, 600 ft. thick, of Hoover Dam. Power to operate all machinery must be led in from 200 miles away in California.
When finished the dam will rise 727 ft. between the canyon walls, will back the river up into a reservoir 115 miles long, two miles wide. The U. S. already owns as part of the undistributed Public Domain the land in Nevada and Arizona on which the dam will rest.* Settlement will have to be made later for upstream private property to be inundated by the new lake. Most interesting to engineers in the construction will be an experiment to hasten the cooling process of concrete by means of a special ammonia refrigerator plant from which ice water will be piped through the 7,000,000-ton mass.
*In the Supreme Court of the U. S., Arizona, unwilling partner to Hoover Dam, has pending a suit to halt the construction as an infringement on its sovereign rights