Update On June 06, 2008
"I've got the most scathingly, brilliant idea!"
The photos in this article are used with the permission
of Mr. Bruce Clark, the copyright owner of the original
images. Be sure to visit his great website at
http://www.thetroublewithangels.com/
Thanks Bruce!
Another of my favorite movies.
The rare "letterboxed" (widescreen) version will air ONCE in July on Turner Classic Movies!
Wednesday, July 18th, 2007 4:00PM Eastern Time 1:00PM Pacific Time
The Trouble with Angels is a 1966 comedy film starring Rosalind Russell and Hayley Mills set in a fictional all-girls Catholic boarding school operated by an order of nuns. Russell plays the Mother Superior, who spends the movie at odds with Mary Clancy (Mills), a rebellious teenager, and her misery-loves-company friend Rachel Devery (June Harding).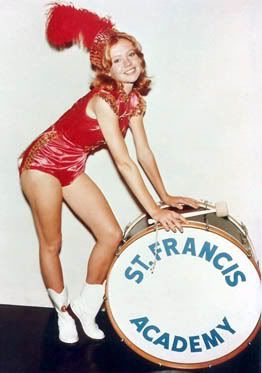 The movie, which follows an episodic storyline that follows the young women through their high-school years, also stars Marge Redmond (who also appeared as a nun in the television series The Flying Nun) as Sister Liguori, Mary Wickes (who also played a nun in Sister Act, and its sequel Sister Act 2: Back in the Habit) as Sister Clarissa. Gypsy Rose Lee is also featured in the movie.

This photo is used with permission by copyright owner
Bruce Clark
.
The film marked a departure for Mills, who was attempting to emerge from her juvenile leads in Walt Disney-produced teen comedies as a comedic actress in this production directed by Actress/Director Ida Lupino.
The film enjoyed good reviews and enough success to warrant a sequel (Where Angels Go, Trouble Follows). However, Mills opted not to reprise her role as the progressive protagonist and was replaced by Stella Stevens, who played Sister George, foil to Rosalind Russell's Mother Superior.
Uncharacteristically, Russell criticized Mills' professionalism in her memoirs. Russell credited her Catholic-school education as inspiration for her role as Mother Superior.
The film was based on the memoir Life with Mother Superior by Jane Trahey, in which Trahey told the true story of her high-school years at a convent boarding school near Chicago in the 1930s.
Source: Wikipedia
Here's a couple of memorable clips from the movie.
UPDATED: June 6, 2008
Just thought I would add these two new photos that I found at
soundtrackcollector.com
. One is a movie poster and the other is of the soundtrack which was composed by
Jerry Goldsmith
.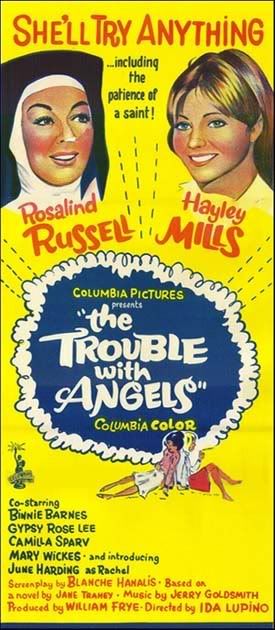 Also, to read a well written movie review and analysis of The Trouble With Angels, go
here
.