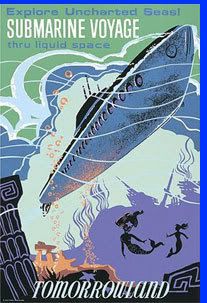 LOS ANGELES - When the "Submarine Voyage" ride reopens Monday at Disneyland, it will have a new story line, shiny new coral reefs and something not envisioned when it debuted in 1959 — an alternate experience for disabled visitors.
The "Imagineers" at The Walt Disney Co. couldn't retrofit the hatches and spiral staircases of the original 52-foot submarines to accommodate wheelchairs.
So they did the next best thing. The undersea voyage has been photographed with state-of-the-art equipment, and the high-definition images will be displayed on a 61-inch plasma screen in a theater designed to resemble an observation outpost.
The viewing site is also intended to accommodate people who are claustrophobic.
"Our passion has always been to ... have everyone experience the rich Disney stories," said Bob Minnick, who oversees disabled accessibility efforts worldwide for Disney.
Since it was opened by Walt Disney himself, the 15-minute ride has spooked some people who didn't like being submerged during the trip past ruins, sea serpents and an active volcano.
It closed in 1998 as the original underwater props aged and the story became dated. A similar ride at Walt Disney World in Florida closed in 1994, and the lagoon there was paved over.
Disneyland based its two-year redesign on the popular movie "Finding Nemo."
New rides built at Disneyland and other theme parks are covered by the Americans with Disabilities Act, which went into effect in 1991 and mandated access to public buildings and other places.
But rides built before 1991 did not have to be retrofitted, although Disney and other theme park operators have taken steps with some attractions to widen waiting areas, add vehicles that accommodate wheelchairs and build separate boarding areas for disabled guests.
Redesigning an older ride, however, can trigger the retrofitting requirements.